July 20, 2006 · filed under family, wedding
We've all seen some bad Mother of the Bride dresses in our time. You know the ones I'm talking about. They're shapeless, frumpy, and overly sequined. At their worst, they make the groom freak out that his bride may one day turn into her mother.
Well, I was determined not to let my mother look like this. Not that such a thing was ever really an option because my mom is pretty cute, but I'll be honest and admit that I have threatened to nominate her for What Not to Wear on an occasion or two (or four). (Tapered jeans = bad. Just ask Oprah.)
When my mom found a dress the other day she thought was good for the wedding, she took a photo and sent it to me: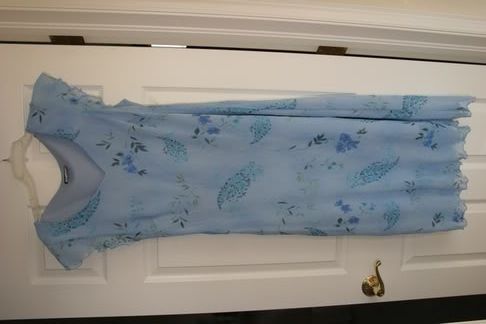 I admit, it isn't bad. It not super droopy, sequined, or adorned with a floppy jacket. But the all-over floral pattern doesn't exactly scream hottie either. So I convinced my mom to check out the Nordstrom Anniversary Sale just to see if there was anything cute. It couldn't hurt to try. Well, let's just all thank goodness that she brought her best friend and—here is the KEY—her best friend's adorable and stylish 22 year old daughter with her. Within an hour, my mom bought this dress instead: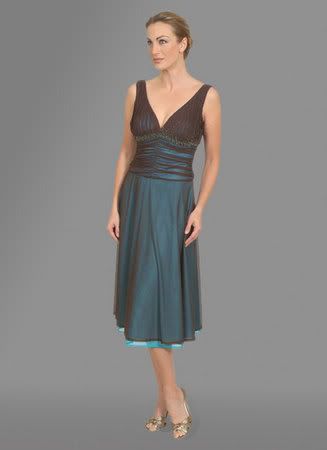 Isn't my mom going to look HOTT in this dress! I was so proud of her. It has shape! and ruching! and sparkliness! and it's so modern! I immediately sent a proud email to my sister.
From: Me
To: Sister
CC: Mom
Subject: Mom is going to be a MILF at my wedding

Sis, check out mom's awesome dress!
Awhile later, this was in my inbox:
From: Mom
To: Me
Subject: Re: Mom is going to be a MILF at my wedding

Seriously, Dad and I feel like idiots, but what is MILF?
I didn't have the heart to tell her myself. I thought everyone knew what a MILF was! Especially my mother, who taught high school for 30 years. Surely this word was used regularly among high school boys? Someone today even told me they had heard the term GILF lately (Grandma I'd like to…)!
And thus, my sister had to tell my mom what I meant. My dad was grossed out, but I think it secretly made my mom pretty happy.
---